Regular price
Sale price
$1,990.00
Unit price
per
Sale
Sold out
Commercial grade steamer for your home
This lightweight and portable appliance is both efficient and effective, providing you with the commercial-level technology you need in a compact package.
Fast, water-efficient and chemical free
The Saphira C8 represents the future of cleaning - it is both water-efficient and chemical-free. This innovative device is capable of sanitizing a variety of soft and hard surfaces, removing bacteria and dust mites with a 99.999% efficacy to deliver professional-grade cleaning.
The Saphira C8 steam cleaner heats up within minutes and can continuously produce steam, enabling you to refill the water reservoir anytime during operation without any downtime. With three adjustable steam levels, this machine is well-equipped to tackle even the toughest cleaning jobs in your home without any interruptions.
European 

quality

Originating from Italy, the Saphira C8 steam cleaner is a highly powerful and compact domestic appliance that stands out in the market. With a remarkable steam pressure of 8 bars and steam output of 82g/min, it delivers exceptional performance. The machine generates continuous dry steam at temperatures over 170ºC, making it a top-performing device designed for superior cleaning outcomes.
Attachments for all your needs
The appliance comes with an 18-piece multi-purpose accessory kit that provides you with tools for every cleaning task, covering a broad range of applications. For steam-only cleaning, the Saphira C8 is the ideal choice for achieving the best cleaning results in your home.
Share
How this will alleviate allergies

Dry steam cleaning can be effective in reducing the presence of dust mites, which can trigger allergies in some people. Dust mites thrive in warm, humid environments, and they can be found in mattresses, carpets, upholstered furniture, and other household surfaces.

Dry steam cleaning uses high-temperature steam to clean and sanitize surfaces without the use of harsh chemicals. The high heat from the steam can kill dust mites and their eggs, which helps to reduce their populations. In addition, the steam can penetrate deep into fibers and crevices, which can dislodge and remove dust mite debris, such as feces and shed skin cells, that can also trigger allergies.

Overall, dry steam cleaning can be a helpful tool in reducing the presence of dust mites and improving indoor air quality for people with dust mite allergies. However, it is important to note that steam cleaning should not be relied upon as the sole method of allergy control and that other measures, such as regular vacuuming and dusting, may also be necessary.
Features

Dry steam is an easy and efficient method of cleaning improving cleaning outcomes both visually and microbially. The superior performance of high temperature dry steam drastically reduces contact time required to sanitise hard and soft surfaces, in turn, reducing household clean times. Dry steam is a hospital approved method of cleaning widely used across commercial industries.

Make the switch to chemical free cleaning to remove harsh chemicals from your day to day life. By switching to dry steam cleaning, you too, can make tricky and labour intensive jobs easier, without the need of toxic household chemicals. The Saphira C8 is the future of home cleaning; Lightweight, portable, efficient & effective.
What's included

Dry Steam Cleaner and the attachments
View full details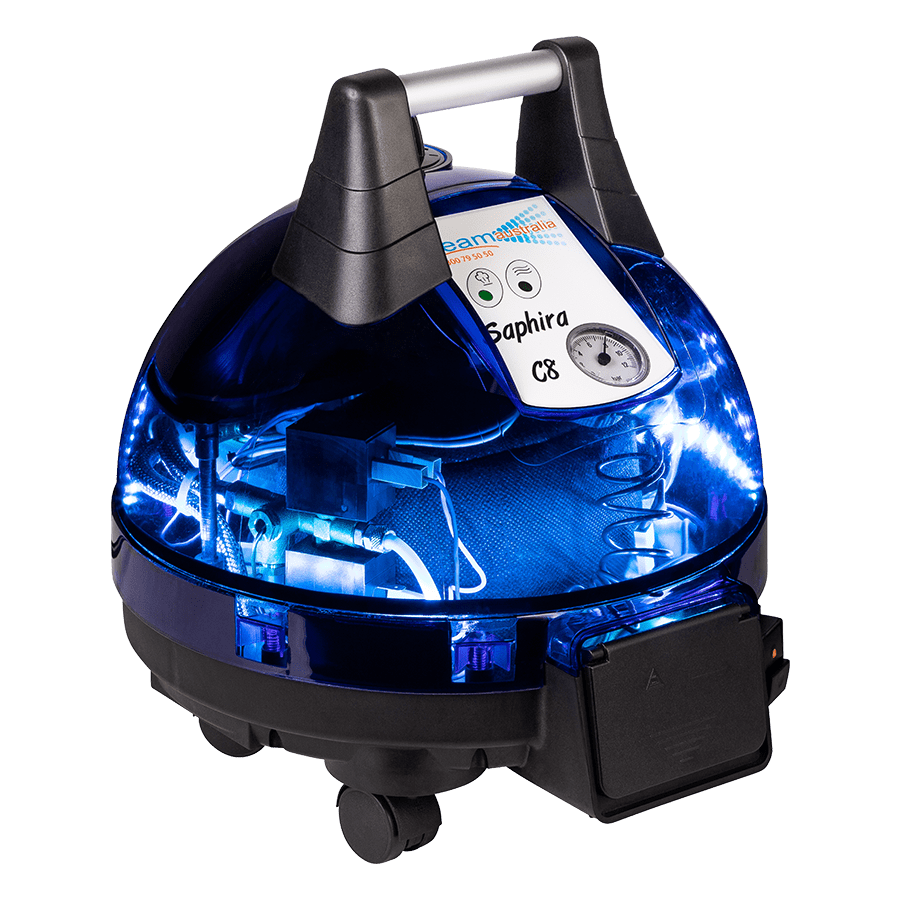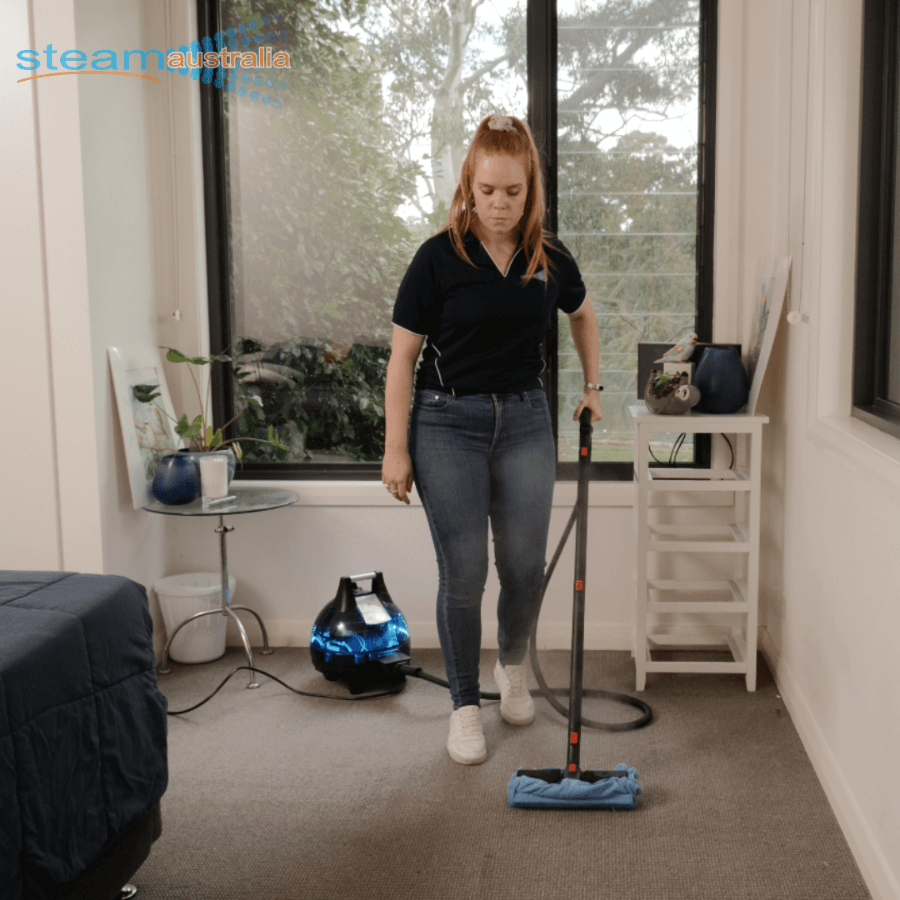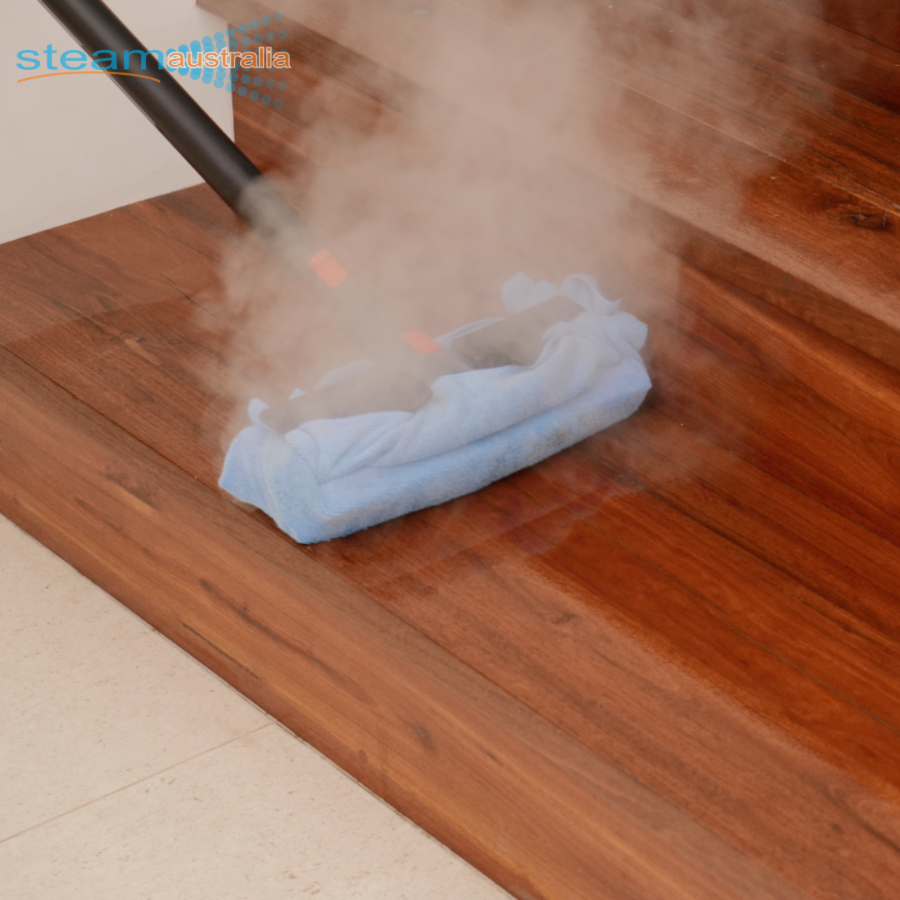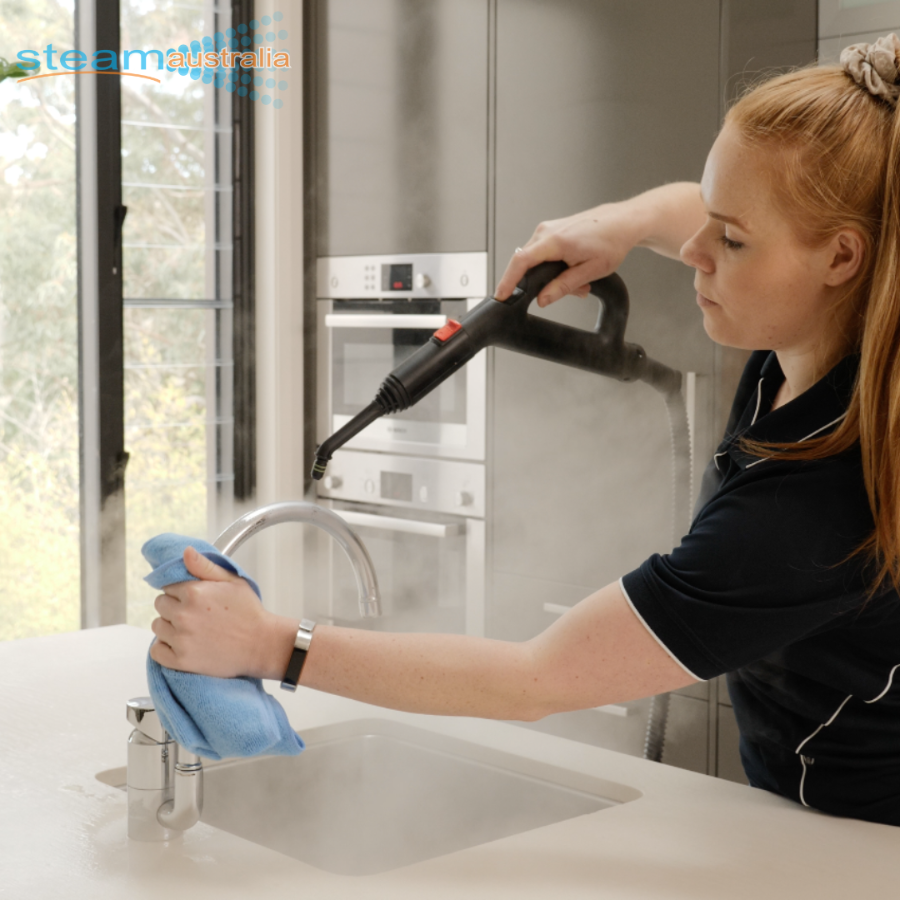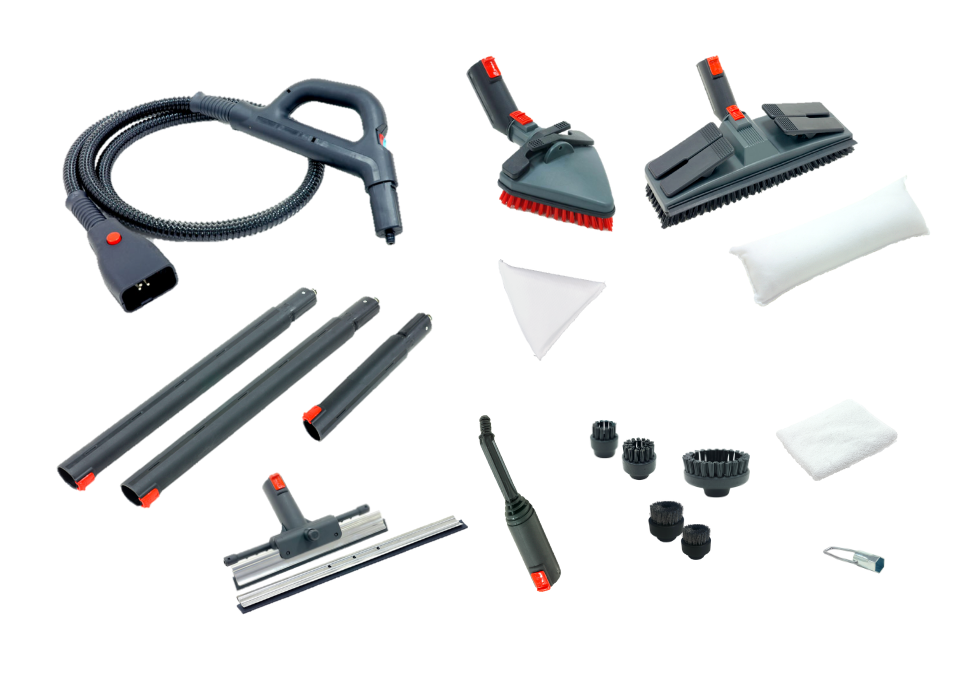 Dry steam is suitable for use on a wide range of hard and soft surfaces
Floors and Walls

Hard Floors including vinyl, stone, tiles & grout
Kitchens including range hoods, ovens, stovetop, sink, benchtops, fridge door seals
Bathrooms including vanity, toilet seat hinges, shower recess, limescale buildup, deodorising and unclogging drains
Windows, framing, sliding doors and blinds

Soft Furnishings

Upholstery including fabric and leather lounges, carpets, car seats and curtains
Mattresses targeting bacteria, bed bugs and mould

Outdoors

Kill Weeds and target growth on outdoor pavings and furniture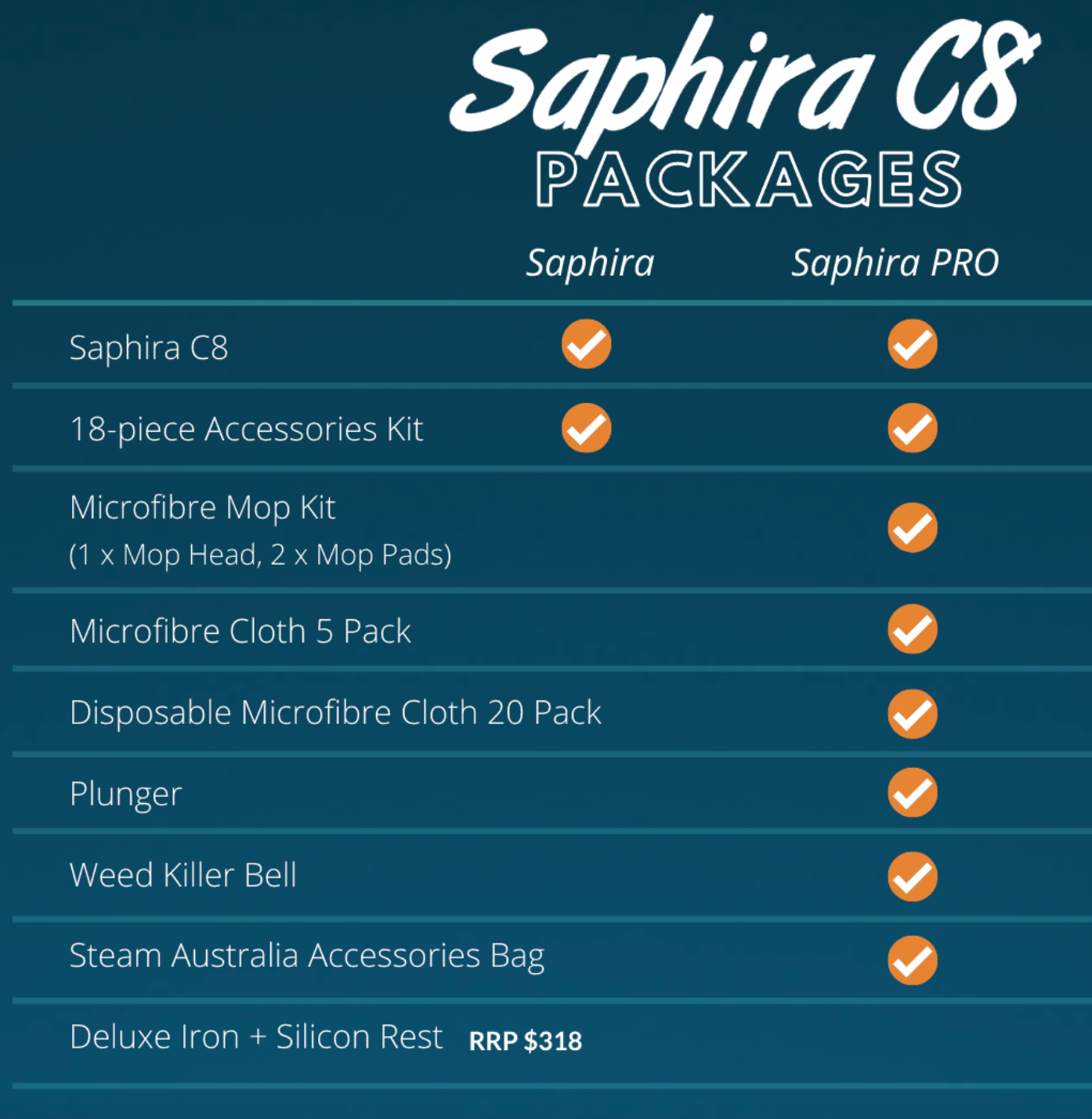 Saphira C8 Packages
Choose between the Saphira base package or Saphira Pro package.
What Is Dry Steam Cleaning?
Dry steam is essentially water vapor that is produced by heating water to a high temperature without boiling it. When dry steam is pressurized and heated above 170C using a quality microfiber, it creates the ideal combination for effective infection prevention.
Steam Australia's machines produce dry steam at temperatures exceeding 170C, with a moisture content of only 5%. This high temperature dry steam can break the bond between dirt and surface, effectively eliminating ≥99.999% of bacteria by damaging and inactivating their cells. This process also helps to eliminate bacteria, viruses, and allergens such as dust mites, bed bugs, mold spores, E.coli, Influenza, Coronavirus, and other enveloped viruses.
By using high-temperature dry steam, this cleaning method provides an effective and eco-friendly alternative to chemical-based cleaning products.
Dry Steam Cleaning
Effortless and effective

Quicker clean times
Simplify general cleaning and make tricky jobs easier
Improve cleaning outcomes both visually & on a microbial level
Kills over 99.999% of bacteria, virus' and allergens; such as dust mites, bed bugs, mould spores, E.coli, Influenza, Coronavirus and other enveloped viruses.

Eco-friendly and chemical free

Chemical free dry steam
Reduce chemical usage by up to 95%
Reduce water usage by up to 90%
Reduce packaging waste from chemicals and throw-away products
Reduce exposure to toxic chemicals, providing a safe and clean environment for your family

Efficient

Reduce chemical costs
Reduced cleaning times
Clean a wider range of surfaces in your home with one versatile appliance
Not a throw-away appliance, this quality Italian steam cleaner is built to last
Every Job
A tool for every cleaning job, the the Saphira C8 is the best steam cleaner for your home. It is supplied with an 18-piece multi-purpose accessory kit to cover a range of applications. With a wide array of optional steam only tools compatible with this unit, tailor your own Saphira C8 package for your home cleaning today. See training video for more information. 
Our available accessories are constructed with a makeup of 50% Fibreglass Reinforced Polymer (FRP), categorically top in their field. FRP is often used in aerospace, marine and construction industries, so you can guarantee these accessories have a high durability.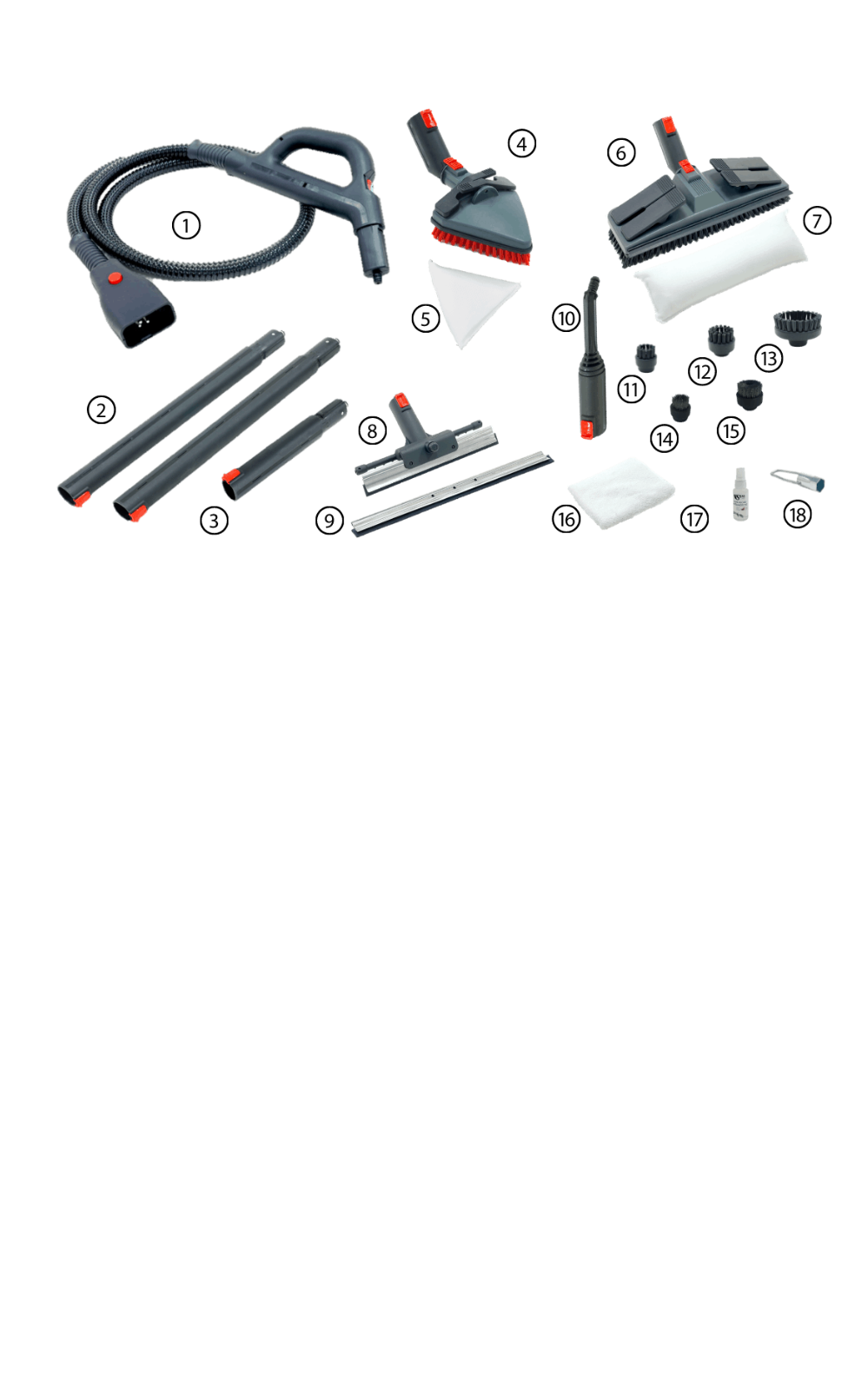 Accessories
2.5m S/O Button Handle Hose
Extension Tube 250mm Extension
Tube 500mm x 2 Brush
Rectangular 300mm Floor
Rectangle Cushion
Triangle Brush
Triangle Cushion
Detail Nozzle
Window Squeegee S/O w/ 250mm
Insert Window Squeegee S/O
Insert 350mm Brush Nylon 30mm
Brush Nylon 38mm
Brush Nylon 60mm
Brush Stainless Steel 30mm Brush
Stainless Steel 38mm Cloth
Maintenance Kit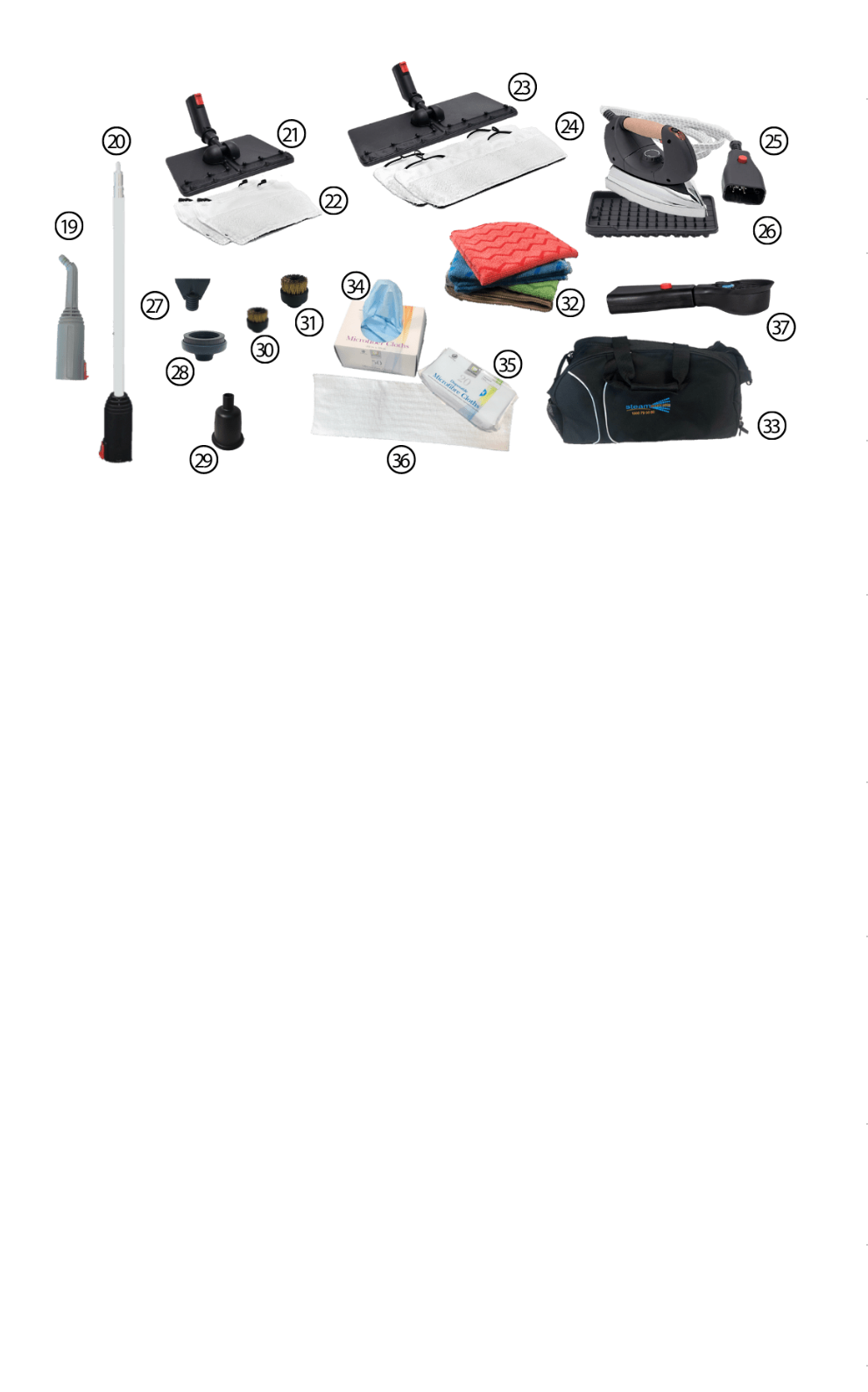 Accessories
Detail Nozzle Grey
S/O Aluminium Long Nozzle
Mop Head Wall 250mm
Microfibre Mop Pad Wall 250mm
Mop Head Floor 390mm
Microfibre Mop Pad Floor 390mm
Iron One Button
Silicon Iron Rest
Aroma Therapy Oil Diffuser
Scraper
Plunger
Weed Killer Bell
Brush Round Brass 30mm, 38mm
Brush Round Horsehair 30mm,
60mm Aroma Therapy Oil Diffuser
Microfibre Cloth 5 Pack
Steam Australia Accessories Bag
Disposable Microfibre 50 Pack
Disposable Microfibre 20 Pack
Disposable Microfibre Floor Pad 50 Pack